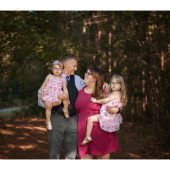 Ashton Oakes Monroe
Ideas, wishlist, personal checklist.
We didn't have a shower with the girls, so this is relatively new to me. I've bought the bigger necessities, but its been three years since I've had a newborn and I've likely forgotten all the little things I'll need! Like a rectal thermometer (thanks Lauren) And obviously it's my first boy so I have no idea what I'm doing. What things do I need for his aftercare? 👀
Incase you didn't know, we cloth diaper (even in the newborn stage) due to preference, disposable-sensitive LO's, and the fact that they're blowout proof. Seriously, never have had a poop-splosion with cloth 👏🏼 That being said, I can always use more reusable diapers because babies poop... a LOT. I have no preference in brand or style but do personally love Grovia All In Ones. (I didn't attach on here though because I know cloth buying is intimidating when unfamiliar)
Respectfully, please keep in mind my choice to cloth 😘 Any disposables we got with Lillian went to a local women's shelter/pregnancy center because unfortunately we're a little sensitive to the materials.
I'm lame and added Old Navy/Amazon gift card options for those more intimate and last minute prime items. Would help tremendously in terms of being able to buy breastfeeding-friendly clothing, bras, cloth diapering essentials, postpartum items, and even clearance baby clothing as needed.
(We've slowly been buying NB-6mo and we're set in that department, but could use some gently used 9-18mo clothing if anyone has anything they'd like to pass along. I'll be sure to PIF when we're through in those sizes. 🙏)
View
---
Price
---
Stores
---
Categories