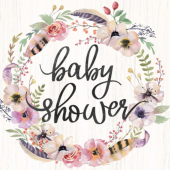 🌹BABY MIGLIN🌹
Arrival Date: Mar 18th, 2018
🍼Welcome to Baby Miglin's Registry List! 🍼
The items are linked to websites where you can purchase your gift.
To help you navigate, here are steps to buying your gift:
1. First, click on the green "Give This Gift" button next to the item or items you'd like to buy. Please enter your name and email address to reserve your gift from the list. You can either "Reserve and Check Out", or "Reserve and Keep Shopping".
2. If you "Reserve and Keep Shopping", when you are ready to buy item(s) please click on the Cart in the upper right corner. TIP: to unreserve an item, simply click on the Cart and under the item click "Remove"
3. When you "Click to Buy", it will redirect you to website to purchase the item. Please add item to your Cart and complete your purchase. For multiple items from the same store: go back to Babylist and repeat this step.
4. Once you complete your purchase, head back to Babylist and mark item(s) as "I Already Purchased This"
Tip: You can buy items on this list at any store of your choice, but first please reserve the items so that no one else can buy them. Afterwards please mark them as Purchased.
View
---
Price
---
Stores
---
Categories