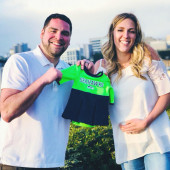 Miki and Cam's Baby Registry
Arrival Date: Sep 4th, 2018
Thank you for visiting this page! We love you!! We couldn't be more thrilled to be taking on this next chapter with such an extraordinary village around us ❤️
We request that you air on the side of less clothes, more functional so that we have all the things that will help us down the road as we are brand new parents figuring it all out!
*** If you must get clothes (I know they are way too cute to resist), make it awesome! Throw in a show stopper dress and fur vests OR try the more practical route with rain coats, shoes, socks, and mittens. Function and/or Fashion? Welcome to my conflicting daily life! LOL... or get something that will fit them when they are 2 or older!
HERE IS WHY: We have SO MANY regular use hand-me-downs from our awesome friends and family so we are already really good on onesies and blankets. LIKE REALLY GOOD... We appreciate your understanding. 😄
Thank YOU for being a part of this journey with us!! Your contributions and mere presence in our lives is greatly valued.
Love,
Miki & Cam
View
---
Price
---
Stores
---
Categories