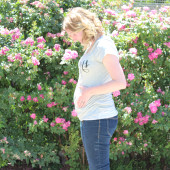 Patricia Ann Marshall
Arrival Date: Sep 24th, 2018
Help us welcome Patricia Ann Marshall to the world! Thank you so much for your contribution to her life and for your influence in ours. We love our community, family, and friends and we are incredibly grateful for each of you!
Please note: Items listed may have a note with them explaining size or color or that gives you an option of what we are looking for.
We are moving into a very little house, with limited storage options, so space saving items would work the best! (I will make sure I change the shipping address when that happens).
It will be fall and winter during Tritty-Ann's first few months with us, so warmer gear and baby layers are a huge help. We anticipate sizes 3-6 months or 6-8 months for the COLDEST parts of winter.
We aren't picky about colors and love that you choose what you like for her.
For larger items we appreciate the protection plans when they are an option!
Thank you so much for your love and support!
View
---
Price
---
Stores
---
Categories