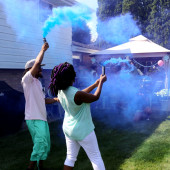 Our Little Peanut's Baby Registry
Arrival Date: Sep 17th, 2018
Thank you for visiting our registry!
Both Patrick and I sincerely appreciate your support and kindness at this amazing time!
Things to be noted:
Our babe shall be exclusively breastfeed (so no formula of any type)! We have both also agreed (and look forward) to using Cloth Diapers (so no disposable diapers are needed either).
...We know what you're thinking! "Cloth diapers? Really?" YES really!
Don't worry! I know more than half of you wonderful people have NO idea where to even begin to look for cloth diapers. I got you covered, though! I have provided some diapers and various other things useful for our cloth diapering needs to the registry. I've also made a point NOT to shower the registry with a ton of baby clothes. Why? Well, we don't want to confine you to a certain style! You have free reign to style our son however you see fit!
We are so excited to share this wonderful experience with our friends and family and hope we've covered the basics with this registry!
View
---
Price
---
Stores
---
Categories