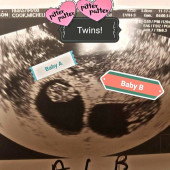 Two More Cooks in the Kitchen
Arrival Date: Jun 8th, 2018
We become parents to TWO little bundles of Grace and Mercy in June 2018. While we planned to have a child, neither of us were expecting twins, but we're absolutely in love with them already. As you can imagine, we are super excited to be parents. We're fortunate and blessed to have so many family and friends willing to support us through this beautiful adventure. And just like an adventure, there will be uncertainties and moments of chaos. For example, we unfortunately discovered that Michelle's job will not be allowing her paid-time. She is ineligible for short-term disability as pregnancy is considered a pre-existing condition. We're looking at this less than ideal financial situation as an opportunity to strengthen our bond not only as husband and wife but also parents to be, which is a beautiful thing since we're already an amazing team.
Many of you all have been able to witness us grow from our first date to our marriage, and we're excited to have you all along our journey through parenthood. I know many of you are dying to know the sex of the babies, but we've decided to find out the "old-fashion" way--waiting until they get here, which is way more fun for us. Our family and our needs are exploding so we're thankful for any help and blessings we receive regardless of how much or how many. And believe us, if there was a way to accepts gifts of sleep, we totally would because we know sleep will be just an idea once the babies get here lol!
We love you all and don't hesitate to ask us any questions.
View
---
Price
---
Stores
---
Categories