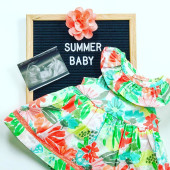 Baby Gleason Registry
Arrival Date: Jul 22nd, 2018
Hi Everyone!
This is a list of some of the things that we think we'll find helpful when our little one makes her grand entrance. Babylist allows us to choose items from multiple stores and keep everything on one list, which has been so convenient!
When/If you buy a gift through an outside source, we ask that you please mark the gift as 'purchased' on Babylist, so we can avoid too many duplicates. To do this, click "Give This Gift" then "I Already Purchased This".
We really cannot thank you enough for enjoying this day with us and we appreciate your company and generosity more than we can express! We can't wait for our sweet baby girl to be welcomed into the world so she can meet you all! We know she is already so loved!
Love,
Alison & Tony
View
---
Price
---
Stores
---
Categories