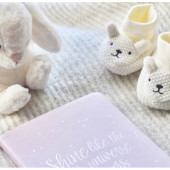 Evgeniya Averyanova
Arrival Date: May 24th, 2018
Hello friends!
Thank you for stopping by at our first baby Girl registry/shopping list! We're so excited to meet Her and can't wait for Her to be with us! Also can't wait for Her to meet with all of you!
We decided her very first goodies to be in WHITE/BLUSHED (WASHED) PINK/GREY tones.
As you know Her Mommy (me) is a very detailed prone person. We went over our registry list with our own thoughts and necessities. (Please confirm if you willing to present something different from the List or present with the gift recipes).
Gift cards to:
KidsLand Amazon
Target IKEA
H&M baby Gap baby
Carter's Pottery barn baby
Yoga Works Studio Marshall's
will be very helpful as well
View
---
Price
---
Stores
---
Categories