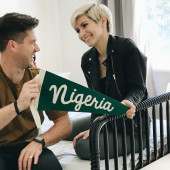 Bringing Home Ayo
Hi friends!
Many have asked If there's anything we still need as we prepare to bring home Ayo, our 2 year boy from Nigeria! First, thank you so, so much for even thinking to ask. It means the world to know there are people who already care about our little boy and want to help alleviate some of the stress in our lives!
Now that we've met him and now his needs, likes, and size, here are a few items on our "things we'd love" list to help us when we return to Canada.
Please, don't feel any pressure to get us anything, but if you wanted to get something and you need some ideas, hopefully this helps!
Also, as many of you know our adoption expenses have be quite a bit more than we originally anticipated. We never want to ask for help covering the cost of something we chose to do, but if it's on your heart to contribute to any unexpected expenses we may have while we're away that would be a huge, huge stress reliever! If you want to give a financial gift, you can contribute here:
PayPal.me/kimandclark
kimberleemmoran@gmail.com
Thanks for loving us and our family so we'll. It's hard to find words to express the gratitude in our hearts, so for now we'll just say thank you!!!
- Clark + Kim Moran
View
---
Price
---
Stores
---
Categories