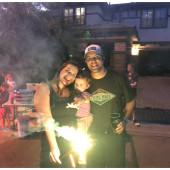 Alisa's Baby Registry
Arrival Date: Sep 23rd, 2018
We are so excited to welcome our little girl, Everly Rose (Name subject to change until birth, ha!) to our family! We so appreciate everyone's thoughtfulness in wanting to celebrate along with us. I added several items to this list that we would love, but really appreciate anything and DIAPERS are always needed and a great gift... you always need more diapers! :)
If you see an outfit you just cant pass up, 9/12+ months are most helpful as Olivia and friend donations have blessed us with an abundance of smaller sized clothes!!
I tried to add items from a variety of stores, but please buy from your preferred shopping source, we are not picky!
Thank you again for thinking of us! It really does take a village to raise these little ones!
XOXO,
Alisa & Dave
PS: Babylist is a registry that you are able to purchase items from where ever you'd like- I added things from a variety of stores, but buy from where ever you prefer to shop and you can mark it off manually.
View
---
Price
---
Stores
---
Categories