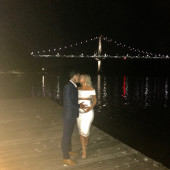 Allyson's Baby Registry
Arrival Date: Dec 29th, 2018
Welcome and thank you so much for checking out our registry!
First and foremost we would like to personally thank everybody who has been/will be a part of our new journey as parents! Your love and support means the world to us and we're beyond excited to share this beautiful adventure with each and every one of you! We ask for you to please not feel obligated to purchase anything out-of-reach as we know that we have some pricier items on our list. We welcome and encourage joint gifts if a pricey item is something you would like to purchase but can't splurge alone:). We have put a lot of time, love, effort and research into every single item on here in an attempt to give a versatile price range & also get the exact things we want/need. If you would like to buy us something that is not on our Babylist Registry we just ask kindly for a gift receipt just in case something does not fit or work. We truly appreciate every single thoughtful gift and again, we are so appreciative for all the love and support!
P.S- This registry is broken into many categories, if you look at the top right(left if your on a phone) of the list you'll find a "collapse all" button. Click it to easily see and navigate the sections you wish to shop in ❤️
Thank you!
XO
View
---
Price
---
Stores
---
Categories