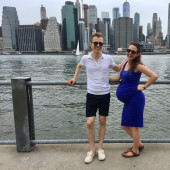 A&A's Baby Registry
Arrival Date: Aug 14th, 2018
As we prepare for the arrival of our baby, we feel incredibly lucky to have the support of loved ones both near and far, and we appreciate all the forms of support we receive -- phone call, visits, text messages, and cards!
No gifts are requested, but we know that some folks will want to send or bring something for us to open. THANK YOU in advance! Our apartment is tiny and short on storage space, and we've happily received a ton of adorable, tiny clothes and stuffed animals already -- and so we're hoping to limit our new acquisitions to the items on this list, please. Or, we'd love it if you shared your favorite baby books!
We can't wait to introduce you to "Lime Bambino Burrito Siahpush Eickmann"!
View
---
Price
---
Stores
---
Categories