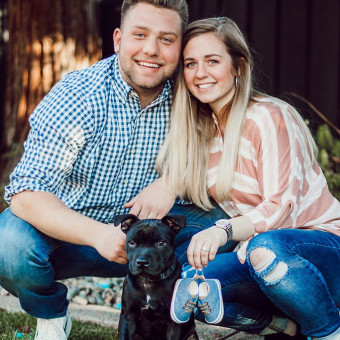 Baby Boy Carter's Registry
Arrival Date: Sep 12th, 2018
HELLO friends and family! Welcome to our registry for Baby Boy Carter.
A little update about us - Justin, Bear (our 8 month Staffy puppy) and I are currently living in Draper, Utah and loving our busy life! Justin is studying at Utah Valley University for his Bachelors Degree in Criminal Justice as well as working at Harmons as a manager and Texas Roadhouse as a server. I am currently working at Mercedes-Benz in the service department and still nannying for the best family (and will continue after baby)!!
There have been many life changing events and opportunities come up for our family in the last year - and we are very grateful for all your support and love along the way. As for now, we're going to finish school and continue to enjoy beautiful Utah and then see where life takes us!
Pregnancy has been on my side for the most part. A little nausea for the first couple months but it's been smooth sailing from there. I haven't had any weird cravings just some random ones (Reese's, Culver's chicken tenders, and strawberry ice cream - stuff I never ate before pregnancy). I love being pregnant and am for sure going to miss this belly!
We are ecstatic to meet our baby boy (we have a few names in mind but will decide once he's born) come this September! Thank you all so much for helping us shower him with love and gifts - you all are so amazing!
To all our Indiana friends and family - we are so upset that we won't be making it to Indiana this summer. We love and miss everyone tons. Our door is always open if you ever travel out West.
We can't wait for you all to meet Baby Carter after his arrival!
Much love,
The Carters
View
---
Price
---
Stores
---
Categories