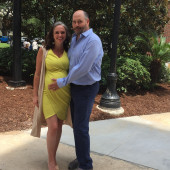 Baby McTaraby's Registry (Kaitlin & Eric)
Arrival Date: Sep 20th, 2018
Hi Family and Friends -
I can't wait to meet you in a few weeks!! I am practicing my high-fives in utero 😉
Thanks for visiting my "wishlist". Truly, I don't need much... just your snuggles and help keeping my mom and dad sane. They mean well but could really use your advice (and encouragement!).
Below are some items that have been recommended to us, but, if you have any other "must have" suggestions we're all ears!
So far my room is black and white with one funky bright neon rug my parents picked up for me on their honeymoon in Morocco. Looking forward to inviting you all over to see it once I'm there.
xoxo,
Baby Boy or Baby Girl McTaraby
View
---
Price
---
Stores
---
Categories