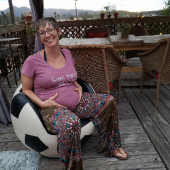 Kerrin's Baby Registry
Arrival Date: Aug 24th, 2018
Hello Friends and Family!
OH BABY! We have decided to let this baby surprise us in many ways. Unexpectedly being a little unplanned miracle and of course intentionally I did not want to know what we were having. Since this maybe the one and only for me. I wanted it to be a surprise... and makes picking out names really fun.
I know what I have been feeling and dreaming but only time will tell. (Only the ultrasound tech truly knows) So until this little one arrives we are trying to be as gender neutral as possible. After the baby comes and they reveal to us what we have been blessed with... then I am ready to receive all the things you may be ready to part ways with.
Hand me downs are awesome... because babies grow way to fast and of course its Eco-Friendly and that is just smart. So if you have something on the list or similar you want to gift or think we might need. please go ahead. Send it my way.
If you also do not feel like wrapping something. I am okay with that as well. Save a tree or two!
This list may get updated as things get acquired...and feel free to check in with me as time goes on.
We appreciate everyones support and love. It truly does take a village!
View
---
Price
---
Stores
---
Categories