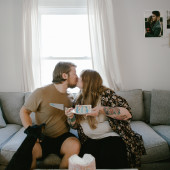 Baby Pecks Registry
Arrival Date: Nov 5th, 2018
"Before I formed you in the womb I knew you, and before you were born I consecrated you; I appointed you a prophet to the nations." Jeremiah 1:5
We are over the moon with the love and support this little boy has been shown already. We can not say thank you enough!
We are also registered at our local store Paperkite in Lincoln NE!
Just go in and ask to see our registry!
We have a little tradition on the Henery side of the family that I would love to share. We choose an animal ahead of time to be the babys special friend. So for our little Peck boy we choose a BEAR, please have the creative freedom to find any bear stuffed animals, toys, or clothes you like!
please feel free to:
find a better deal on any items
buy second hand
join together on a larger gift
gift, gift cards
We have also been blessed with an abundance of new born- 6month old clothes already! That being said any clothes for little one would be best sizing 6month and up!
Thank you so much for looking at our registry and for your generosity to us and the new baby! We appreciate you and your gifts.
View
---
Price
---
Stores
---
Categories