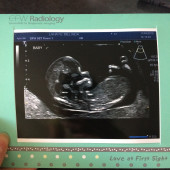 Melinda's Baby Registry
Arrival Date: Oct 22nd, 2018
Over the summer months I will add a variety of products and hopefully give a wide selection of the things I need :) Feel free to purchase items that are not on this list, because it is not possible to put absolutely everything on this list.
Please feel free to search around the internet and stores for the best prices on any of the items. Babylist website/registry does not ship to Canada - but I can add any item from any online store or store in the city to this list, and hopefully that helps all of you to get items conveniently.
For clothes it would be so appreciated to receive sizes that are 12 months and up - she will be 12 months next fall/winter and going into the summer months at 19 months. I have a boat load of onsies and infant to 12 months from various sources and hand-me-downs and I'm sure I've filled an entire dresser with them already, so clothes for when she's 12 months and older would be super appreciated!
I love eco-friendly and non-toxic products! For example, products that are rubber, food-grade non-toxic silicone, toys made from clean wood, cotton and muslin breathable fabrics and clothes, things that are free from chemicals or toxins. I also encourage buying from local boutiques and businesses if you know of any.
Thomas and I will hopefully be getting some of the bigger items second hand to save money, but I am adding a couple "big ticket" items on to this list as a group gift option so you can help support this new adventure we will be going on!
The baby bedroom is painted to a light green/sage color. That being said, we don't have a specific colour picked for Rosie so anything goes. The theme for her room is woodland animals (especially foxes) and roses with white accents.
And as always, you are welcome to hit me up with any questions you may have.
Thank you in advance to all your gracious help! And for those of you who can make it to the baby shower I am very much looking forward to spending some time with all of you ladies and celebrating as we anticipate the arrival of this precious little girl!
View
---
Price
---
Stores
---
Categories