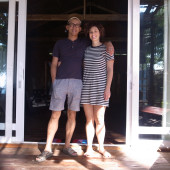 Stephanie & Dave's Baby Registry
Arrival Date: Nov 10th, 2018
We're having a baby!!!
Did you hear about the morning we found out we were having a baby girl? Words barely describe the feeling. Unbelievable joy. Jubilation. They come close, but not quite.
We cannot wait to meet our girl. It's going to be amazing.
And you know what? We're just as excited for you all to meet her as well. She might not recognise or really know you for a couple years yet, but give it time. We'll be sure to remind her who helped babysit her in those early years, or the people who gifted us the amazing Peanuts themed comforter she is so attached to.
We're skipping marriage for now, and heading straight to building our little family. One day Stephanie and I will get married, but for now consider this next stage in life, our little family in the making, an opportunity to celebrate us and what we looking forward to becoming. A family to be.
We are both first-timers at this parenting business, so for those in the know, please do not hesitate to give us any advice you have. We would really appreciate any insight.
Don't worry if you cannot afford to get us anything on this list either. This register will be shared with our friends and family from all around the world.
We're also accepting any hand-me-down you think we might need, or alternative items to what we have included in our register.
Finally, we're going to celebrate this occasion on Saturday 8 September 2018 at The Henson Hotel in Marrickville – from 12 to 6pm. A sensible day event. It's also Stephanie's birthday. So come on through and celebrate with us!
xox
Stephanie & Dave
View
---
Price
---
Stores
---
Categories