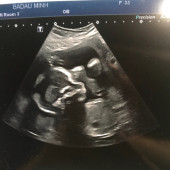 Baby Badau's Registry
Arrival Date: Oct 13th, 2018
Hello Friends and Family! We are so excited to welcome our little one and can't wait for him to meet you all.
Our registry is a compilation of items across multiple stores, some of which are online. You do not need to feel obligated to purchase the item directly from the store we have listed here. Please mark an item as 'reserved' or 'purchased' if you have picked it up - whether through links in this registry or in person at a store - so that others can know the item is spoken for.
Thanks!! xoxo
PS - we are cloth diapering Baby Badau!
There will be a diaper raffle at the baby shower this weekend, and either a pack of Newborn Size disposable diapers OR an item from the Diapering Section of this registry will gain you an entry into the raffle! Raffle is optional.
View
---
Price
---
Stores
---
Categories