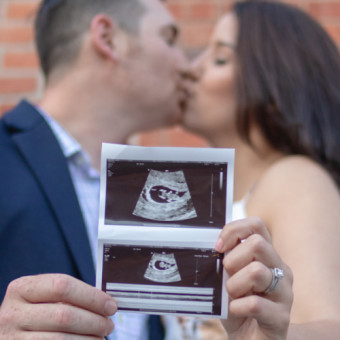 Austin & Aline Sanford
Arrival Date: Feb 17th, 2019 🎉
We are so excited and feel so blessed to be welcoming our little bundle of joy in February! More than anything we are amazed by the loving family and friends this baby will have (already has!) We are so grateful for the blessing of family and cannot wait to bring our little valentine into the world and home next February!
We have planned and prayed for this little for a while now, and are ecstatic with this journey that it is about to begin.
Thank you for participating in our lives and making part of this, OUR, history in the making. We are so happy we are surrounded by wonderful people and by so much love.
While we will let everyone know about our journey, we also ask that family and friends understand, once baby comes, a period of transition will begin for us. We will be adjusting and learning, and we predict tired [and so in love]. While we will do our best to accommodate visits, we will ask that everyone give us some time before visiting us at the house (you can contact us (we would love that) and we will let everyone know when things start going a little more smoothly). We ask for no announcements or photos to be posted on ANY social media until we decide to do so, it is an exciting time, let us enjoy and share it ourselves. Photos of the baby should not be shared without consent.
Also, we will be the parents (yes, those parents) asking for family and friends with little ones to give us sometime before bringing your toddlers and little ones, also, to not come if kiddos or you have been or are sick. While we respect your vaccination opinion, we kindly ask that only people that have had their flu shot for this season come and visit in the beginning. If you plan on being around baby OFTEN, please get your Tdap shot, and if you choose not to, that is OK - we understand- we will just have to wait a little longer for a get together, please understand our choices when it comes to our brand new baby boy.
We love everyone and are so excited for the memories we will make together, we already have so many, now adding one little Sanford to the mix!
"For you created my inmost being; you knit me together in my mothers womb. I praise you because I am fearfully and wonderfully made; your works are wonderful, I know that full well." -Psalm 139:13-14
View
---
Price
---
Stores
---
Categories