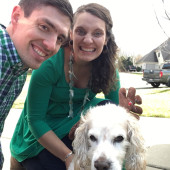 Sarah Edwards and Nick Gebauer's Baby Registry
Arrival Date: Mar 21st, 2018
We are very excited to welcome a new little one (aka Bambin-- our pseudo-Italian nickname) into the world and expand our family beyond our beloved fur baby, Harrison.
You know us, we love to be sustainable and love used, recycled, second hand, and homemade. If you find an item below in an already loved condition, we would love it just as much!
Please note the address to use for any items that are shipped to us. We are asking that anything gets shipped to Nick's work address on Michigan Ave so that it doesn't disappear off our stoop.
Here's to a new adventure for the Gebedwards!
View
---
Price
---
Stores
---
Categories