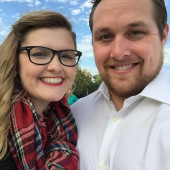 Daniel and Kelsey's Baby Registry
Arrival Date: May 10th, 2018
Gracie is here and we are obsessed. We are so grateful for all the love and support. It has been truly overwhelming. If you are looking to do something kind for us we would love homemade meals, restaurant gift cards, diapers, or walking/playing with crazy Stella as we recover and get used to the new family pace. I'm also putting a few things in the general category as we discover items that we could use.
Otherwise I have already switched the registry to thinking more for future holidays.
We would love for you to join us in praying Grace's life verses over her which are Ephesians 3:16-20. We are praying for continued physical health, mental & spiritual health.
I'm going to continue to update this list for birthdays and Christmas. I love child development and for toys especially I hope to go quality over quantity. That doesn't mean every toy has to be expensive or wooden - just multi-functional and promote purposeful play.
Feel free to get gifts from anywhere- even stores not listed below. This registry allows you to reserve or purchase an item without having to go through any one store. If you are a deal hunter or some of these shops aren't close to you, you can do whatever is best or most convenient for you.
Thank you for your generosity.
View
---
Price
---
Stores
---
Categories