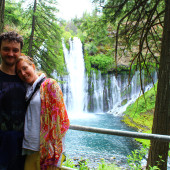 Caitlin & Austin's Baby Registry
Arrival Date: Aug 23rd, 2018
Dearest Family and Friends,
We just want to say thank you for wanting to be a part of our baby's journey to this world! We are forever grateful for the thoughtfulness, generosity and time spent with us at our upcoming celebration 😄
Of course, we are so very grateful for people just travelling and spending the day with us and we genuinely don't want anyone to feel pressure regarding gifts. However, if you so choose, we have carefully picked out these items for what we feel we will need and we're big fans of gender neutral items with natural materials. A good ole visa/amex gift card would never go wrong either.
We can't thank everyone enough for their support and love already and we can't wait until July 8th to see everyone!
View
---
Price
---
Stores
---
Categories