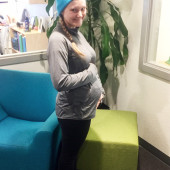 Caitlin & Dale's Baby Registry
Arrival Date: Jun 8th, 2018
For the most part, I am not picky about the specific item listed in the registry. If you know of a better option, or a used option, by all means, go that route!
Here's a few things to think about:
The only items I do not want used are the car seats.
The baby's nursery theme is Snowy Mountains.
We are having a little baby girl so we have an abundance of clothes, however, the seasons don't match perfectly.
Timeline for your ease and reference:
0-3 Months - July-Sep so mostly summer clothes are needed
3-9 months- October-March- warm clothes including hats, mittens, jackets, pants, and socks!
9-12 months- We have a TON of hand-me-downs, but this will be spring, early summer.
Diapers: Always welcome to stash some disposable ones, but we plan to use cloth diapers that Dale has from Lynix's baby days.
View
---
Price
---
Stores
---
Categories