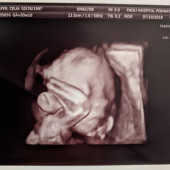 Celia and Devon's Baby Registry
Arrival Date: Nov 26th, 2018
Hello, all!
Thank you so much for visiting our baby registry and helping Devon and I prepare for Baby Shafer's arrival this November. We appreciate you very much, and I'm sure Baby will, too!
If you haven't heard, we've chosen to leave the baby's gender a surprise to everyone, ourselves included, until those fateful words: "It's a..." In light of that, we've selected more gender neutral items for the baby so that our bases are covered. We prefer soft colors the best for baby clothing. Some examples would be: sage green, light green, white, pale yellow, gray, black, tan/oatmeal, mint, navy, light orange, and pale blue (little girls can wear blue, too!).
I (Celia) also would love if you have any hand-me-down baby clothing, toys, and/or books from your own children to contribute. I love second hand stores and have no qualms about used clothing as long as it's still in good condition. I would be honored for Baby S to wear something that your little one(s) once wore (but only items you are willing to part with, of course)!
We are so excited to celebrate our little addition with you all! Thank you for sharing in this exciting time with us! We sincerely appreciate your loving kindness.
With love,
Celia, Devon, and Baby
View
---
Price
---
Stores
---
Categories