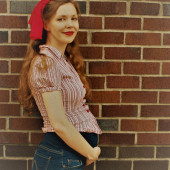 Chandra and Oliver's Baby Registry
Arrival Date: Sep 28th, 2018
Update - Eep, it's 100 days! Getting so close all of a sudden.
A few folks have pointed out to me that they need our address. I *think* the registry sends it to you as soon as you reserve something, but just in case it doesn't, it's...
3603 NE Grand Ave, Unit B
Portland, OR 97212
Once again, thank you, everyone!
--
Hi folks - since we're incredibly fortunate to have friends and family throughout the country, and world (this little fellow's going to be a dual citizen from the start - how lucky is he!?!) the logistics of planning a baby shower are a bit tricky. So we've opted for the online solution of a registry, with the promise of our most heartfelt thanks and many (too many) pictures and updates in return.
If it's easy for you (e.g. you're here in the Portland / Eugene area, and your little ones are just past the age where they need it) we would absolutely love pre-loved baby gear / clothes / books. Keeping the consumerism to a minimum where we can! Just let us know what you're happy to pass on, so we can figure out what we still need.
Thank you so much for always being such a loving, supportive community. Things are crazy right now, but knowing all of you makes us confident enough in the future to bring this little one into the world.
View
---
Price
---
Stores
---
Categories