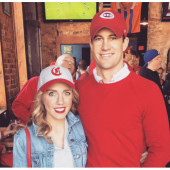 Baby Sieber's Registry
Arrival Date: Feb 26th, 2018
We are so excited for our little boy and want to thank you in advance for your love and support. We've been updating the registry frequently with much needed items, and will try our best to differentiate between our 'Needs' and the 'omg-how-cute-better-add' impulse clicks, in the list below 😄
As guidelines:
- On the side, you can refine this list by store. For your convenience, a registry has also been created at Buy Buy Baby, if you prefer to shop in-store (Note: They're always sending 20% off coupons - And Bed Bath & Beyond coupons work here, too!). However THIS REGISTRY SERVES AS THE MASTER LIST - Others are by no means all-encompassing or accurate. Please consult here first.
- We shop for natural parenting and organic, or "green," eco-friendly products and clothing for our little guy when possible - And would love for you to do so too by making your purchases through the vendors listed on our site or with similar consideration.
Again, we are so grateful to have such a supportive group to welcome our baby into the world - Can't wait to introduce you to our little one!
View
---
Price
---
Stores
---
Categories