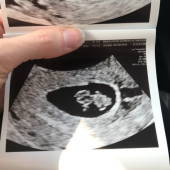 Megan's Baby Registry
Arrival Date: Nov 29th, 2018
Thank you for visiting our registry! We're so excited to meet our baby girl and we're honored that you want to help make her transition into the world a comfy and cute one ;)
First, let me say that I am not attached to idea that any of this needs to be new. If you find any of these things used, that's super ideal!! And it's cheaper! Also, Amazon Warehouse always has "open box" items that people have returned brand new but there's usually a good discount AND I prefer to not buy new for the sake of the environment, unless we have to. We've had success with eBay and craigslist as well. We do already have a few gently used items that we found in GREAT condition!
We'd love to not have plastic or polyester toys. Silicone, 100% cotton, or wood and books are ideal. Don't feel any pressure to wrap with cute or unnecessary plastic/paper either. We'd love to not waste the materials after just one use :) Feel free to get creative with old bags, Kraft or newspaper or even fabric we could reuse for something. 🧡🧡
Thank you for helping us welcome baby Gill into the world!
View
---
Price
---
Stores
---
Categories