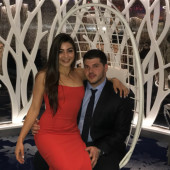 Sheina's Baby Registry
Arrival Date: Nov 8th, 2018
Hi everyone!
Thank you so much for being a part of the happiest time of our lives. We are truly grateful for you!!
Robert and I are so incredibly blessed to Gd willing be welcoming our baby girl to the world this year. We are still in disbelief that she is almost here!
A lot of people may not know that we struggled with infertility for almost 2 years after a very difficult loss... it was, and is a very unbelievably tough experience.
But, having gone through everything we went through, it only made us stronger and made us appreciate this little baby girl so much more. We are counting down the days until we can hold and kiss her!
Thank you so much from the bottom of our hearts to everyone helping us get all these beautiful things for our little one and contributing to our happiness! We love you!
Shipping Address is : 124 S Island Dr, Golden Beach, FL 33160
View
---
Price
---
Stores
---
Categories