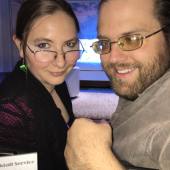 Sammy's Baby Registry
Arrival Date: Jul 2nd, 2018
Hi! Thank you so much for helping me fill my house with all the zillions of baby things I need! I'm totally overwhelmed by the variety involved, so your help is greatly appreciated! I know this list is sparse, but I do have things I'm looking for. If you want to get me something not on this list, that's cool. I'm sure there's stuff I don't even know I need. Here are some guidelines and ideas for stuff I'm sure I'd extra appreciate.
1. Gift cards to stores like Amazon, Target, Audible, iTunes, etc. I'm certain these will be lifesavers, either now or in the future when I realize I'm in desperate need of anything from diapers to baby-gates to interactive learning programs and children's audiobooks.
2. Funds for services and classes. Diaper services, cleaning services, parenting classes.... There's a four week natural childbirth class I have my eye on, and it's $75 a person. I'm still considering hiring a Douala to help me through the last part of this process. Taum and I are trying to learn the piano so we can raise our child with music, so at least one of us would benefit a lot from a piano teacher. We're estimating that the process of having a child in the first place is going to cost us at least $4000 in medical bills alone. Any help with any of these would be AMAZING.
3. Anything that will make my life easier in general, regardless of whether it's baby-related. I know everything is going to get harder with an infant on my hip, so anything to make cooking, cleaning, or general navigation easier would be awesome.
4. I'm trying to be eco-friendly without breaking the bank. Hand-me-downs and second hand stuff is GREAT, especially when it comes to clothes. Did you have a favorite thing that made your life with a new baby a lot easier? I'd love to hear about it!
5. Books and music in other languages. I'd like Dell'Armo Junior to grow up with at least the awareness that other languages are a thing he might learn one day. Children's audio books or cartoons in other languages in particular.
6. If you're wondering what kind of color palettes are important to us, well, I'm going with rainbow and tie-dye things. Bright, true colors or earth tones--no pastels or busy patterns if possible. That being said, if you find something utterly adorable in pink or baby blue that you simply fall in love with, I'm not picky. Function over fashion, all the way. At least until he can make his own preferences known.
7. Please keep in mind that we have a tiny space to work in, and we're trying to stage it to move. So we're going for the minimalist approach here to help us control our tendency toward clutter.
8. Gift receipts for anything new would be awesome. Every situation is different, and sometimes a thing I think I want will turn out not to work, or we might end up with duplicates of things we only need one of. In cases like those, we'd much rather turn the duplicate or non-functional item into something we desperately need.
Again, thank you so much for your interest and help! We are so, SO grateful for your support as we grow our family. There are many challenges ahead, but we're better prepared for them because we have friends and family like you behind us.
Love,
Sammy
View
---
Price
---
Stores
---
Categories