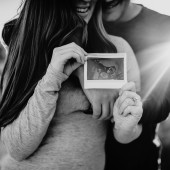 Alissa and Jeff's Baby Registry
Arrival Date: Jul 27th, 2018
Thank you for visiting our registry. We are so excited to bring our little nugget into this world. Being so far away from both of our families, we unfortunately will not be having a shower. I did however, aim for most Nordstrom and Amazon Prime eligible products, to make shipping to Hawaii free.
Us being self-proclamed "minimalists," living in a small home, and with our time in Hawaii almost coming to an end, we found these items to have the most value. We respectfully ask that you stray not far from the following items as most of our house will be packed up and put in a shipping container a few months after baby arrives.
Thank you again for supporting us during this life changing time. We cannot wait to show all of you our little nugget!
xoxo - Alissa and Jeff
View
---
Price
---
Stores
---
Categories