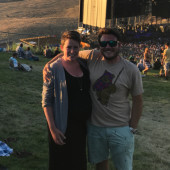 Elise And Marc's Baby Registry
Arrival Date: Nov 1st, 2018
We are blessed and grateful to start this journey into parenthood and so look forward to celebrating Baby Chiavon with you!! We have nearly all we need to welcome our little girl, but we know shopping for a new baby is loads of fun and many friends and family have asked for gift suggestions! Since we already have plenty to start off with, we compiled this list of dream items with the hopes of making it more convenient for people to get an idea of our style or select something that they already know we will love. A few notes about the list:
- Anything we really need or want before the baby comes is listed under the "priority" heading
- Diapers- we know that these are usually a staple item at baby showers, however we'll be using cloth diapers so won't need any disposables. We currently have a stash of cloth started but any others that are given will certainly be used!
- Clothing- we purposefully didn't put a ton of items under the clothing heading because we understand how much fun it is to shop for baby clothes! However if you are looking for some inspiration here is a wildly extensive list of brands we love: Mama Owl (they have great toys too!), Nature Baby, Tiny Threads Clothing, Nui Organics, Oliver & Rain, Milk Barn, Baobab Organics, Angel Dear, Kate Quinn Organics, Princess Awesome, Monica & Andy, Free to be Kids, Smarty Girl, and Budding STEM.
- A few folks have asked for our address in order to mail things directly to us. It is 181 New England Rd Searsmont, ME 04973.
View
---
Price
---
Stores
---
Categories