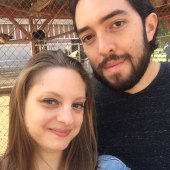 Registry for Baby Lester
Arrival Date: Aug 11th, 2018
Hello! Thank you for visiting! I know there is a lot on this site and some stuff is picked out in groups, I did this because over all it is cheaper but if you want to buy separate please stick to the product. To avoid shipping coasts Nick and I would love to just pick it up for you, just have it sent to the location below.. but please mark on here that it's been bought so others don't buy as well. Although a in person baby shower is usually how things like this go, Nick and I figured this would be easier since we have so many friends and family all over, it be impossible to get everyone together at one time. We thank you so much and GREATLY appreciate your generosity, love, and support through this whole miracle! We Love you all! xoxox
P.S. If you haven't checked out our baby blog go check it out and see whats been going on. There you can also guess my when Baby L will actually come, her weight, height, and a few other things. Website is: Babybety.com Just search my name Elizabeth Simon or Nicholas Lester. If you can't find it let me know and I'll email you the link!
Thanks again.. We hope to hear from/see you all soon! xox
If you need our address please let us know...you can message me here, email one of us, or call.
Stores....
Walmart:
13310 Telegraph Rd.
Santa Fe Springs, Ca 90670
Target:
12051 Imperial Hwy
Norwalk, Ca 90650
View
---
Price
---
Stores
---
Categories