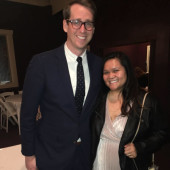 Kenny & Jessica are going to be parents!
Arrival Date: Sep 21st, 2018
Dear Friends & Family,
Words can't describe how excited we are to be parents! TBH, it's equal parts exciting and terrifying, but we know we have the support and encouragement from many who have been here before us.
After many requests from friends and family for a registry, we came up with some items we feel would be beneficial to us. We spent countless hours curating a list of items that fit in with our lifestyle (space being a huge factor!). Anything left off, we've been lucky to find or obtain from friends and family. As we move forward as a family of three, we feel minimalism and time together are the best gifts of all (we know that's corny, it's the hormones!).
Many thanks in advance for your kind words and love in this super exciting time in our lives!!
Excitedly yours,
Kenny & Jessica
View
---
Price
---
Stores
---
Categories