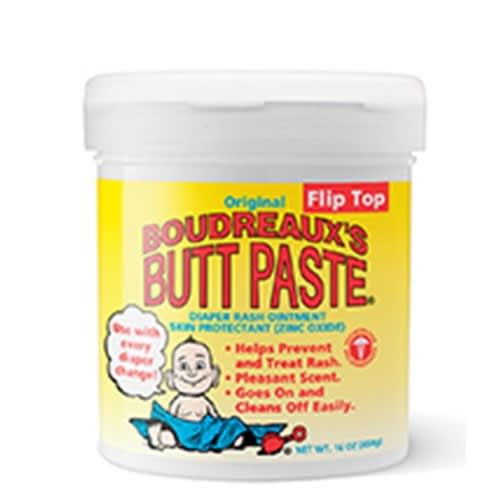 Boudreauxs
Boudreaux's Butt Paste 16 oz. Jar
$12.99
No Longer Available On Babylist
---
User Reviews

(7)
---
Have advice you'd like to share about this product?
---
This is a ridiculously large jar of buttpaste! We're 8 months in and haven't used 1/4 of it. With other creams, I'd use them for a few days with no improvement, no further diaper rash, but no improvement either. With this I'd use it once and his next diaper change his rash was cleared. That is probably the reason so little is gone and my tube of Desitin is empty 🙄
---
I hadn't had to use it a lot. It is easy to use and works well when baby has rash.
---
We use it with every change, and it protects our daughter's sensitive little butt.
---
The only butt paste I will use. Has gotten rid of TERRIBLE diaper rash in one day's worth of use, and my son doesn't mind it like some of the other brands. It stays on well and doesn't melt if left in the car in summertime.
---
Cures diaper rashes quickly! Best diaper cream ever!
---
I use it with every diaper change. I've tried multiple different products but this seems to clear his bum each and every time.
---
Works really well and the tub lasts forever!
---