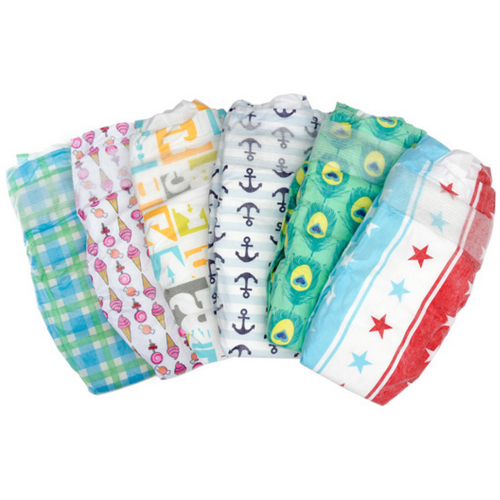 Yes, diapers can be fun too!
Availability: Out of Stock
Product Details
Parents are gaga over The Honest Company- and for good reason. Founded by Jessica Alba, the company makes tons of great products that you feel comfortable with using in your home. The diapers are top notch and provide a good middle ground for those who know cloth diapering isn't for them but want a more natural option with less chemicals than typical disposable diapers. Plus they come in several cute, stylish designs that are updated seasonally! So what's not to love? Well, they're only in select retailers so you may only be able to order them online.
Specifications:
Made with naturally derived, plant-based & sustainable materials
Hypoallergenic
Free of chlorine processing and additives (like fragrances, lotions, and latex)
User Reviews (10)
My son is particularly long and skinny, so while their diapers fit him as a newborn, the other sizes are too big in the waist and they aren't tight enough to prevent leaks and/or blowouts from happening. Expensive, but better for the environment than 98% of the diapers out there.
Did not like this diaper brand. It gave baby rashes, as material is a bit rough on baby skin.
I love how they are organic and easy for me to buy--I'm a teen mom: 19. And they are super cute--my husband likes them too. Our little boy Caeson looks so adorable in the Jean print ;)
Ok YES the cutest of prints. And they change throughout the year. But these diapers are so much more. They're plant based so a great compromise for those of us that want a compromise between reusable and disposable diapers. I've used these for 3.5 years now and never had a problem with rashes nor leaks. Sign up for the automatic bundles!
Um hello cute prints! A great premium diaper and never had any issues! My daughter had diaper rash off and on for months and as soon as we started using Honest -- *poof* no more rash! Sidenote: anytime diapers leak it means you need to go the next size up, even if the weight isn't right on the package. That's what we've learned!
They feel like real cloth but are disposable and super cute!! We love everything Honest!! And it's super affordable if you end up subscribing to their monthly bundles.
My kid blew these out constantly.
My son leaked in Honest diapers. For the price I paid, I was hoping that wouldn't happen. The good thing is, I got a refund for the unused diapers I returned! The are really cute designs and Eco-friendly but you may want to try a sample before spending a lot of money.
The price is fairly comparable to store bought diapers. Getting them delivered is so convenient! You get an email letting you know your next shipment is coming so that you can go online and change sizes and patterns if you'd like. We were/are happy with the quality and I really like choosing different patterns. They have added night time diapers now and they periodically offer themed diapers, which makes it fun.