What weabout it
Exceedingly cute and practical fleece hats keep your baby cozy
Description
---
Zutano's signature soft fleece beanie sports adorable little ears that are sized just right—not too big, not too specific. The hat has a cotton interlock band for a fit that's snug but not too tight. It will keep your baby cozy in a range of climates and stands up to many, many washes.
To top it off, it coordinates with Zutano's line of fleece cozies. Parents recommend using the Zutano size chart determine the right size for your baby by using a head measurement instead of an age range.
Specs
---
80% cotton, 20% polyester
Imported
Machine wash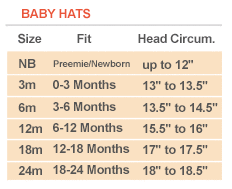 User Reviews

(10)
---
Have advice you'd like to share about this product?
---
It is super cute but sadly it doesn't stretch, so I wouldn't recommend it. Especially because a baby's head is so fragile, I didn't want to force the hat onto his head.
---
We were given the hat in 3M size for our newborn and it barely fit him leaving the hospital. It has near-zero stretch, and it's not like he has a huge head.
---
Order several sizes up. It's very small.
---
It was too small so baby never got to wear it.
---
The design is adorable, but the fabric doesn't have a lot of give so can only wear it for a limited time. I felt like the band was a little tight even when there was more headspace to grow into.
---
It doesn't fit well and leaves a mark on babies head l. We've tried two different sizes same problem.
---
Stephanie
September 21, 2017
Cozy, cute and great color. Style doesn't get old like something overly styled.
---
Cute hat (I mean, it has ears!) that fits when she was super little until she was a bit older. Kept her little head warm and she seemed pretty comfy in it.
---
The only winter hats you need! Great weight fleece for fall, winter and spring!
---