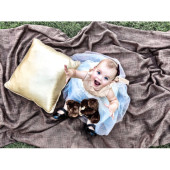 Yemoja's Baby Registry
Arrival Date: Sep 6th, 2017
Yemoja makes being parents feel like the best thing ever. We can't believe our little sprout is already turning one!
She's a lucky child who doesn't need more toys or gadgets. But we're already getting asked "What does she need!" - She could always use more books as we have exhausted re-reading and re-reading the ones on her shelf, we have added titles we do not own to the list below.
Flexible soled, zero drop shoes such as Mon Petit Shoes or Starry Knight Design for beginner walking would also get lots of use 💕
More importantly we'd like to teach our little one to be especially grateful to have our wonderful friends who are family and family who are friends. Thank you for being a part of ours lives.
With love,
The Halcyins
View
---
Price
---
Stores
---
Categories