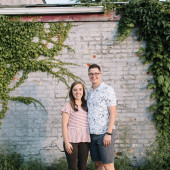 Mallory's Baby Registry
Arrival Date: Oct 8th, 2018
Hello friends and family!
Thank you for taking the time to look at our registry and for your kindness towards us in helping provide things for this new journey of life with little Gavin!
As we prepare to move to Long Island, NY and have baby in the fall, there is a lot of unknowns and it's a little scary. But we trust in our Lord to help us along the way and that He is in control of all things!
That being said we are in need of pretty much everything for baby Gavin! But because we will be moving and don't want to move a million extra things we will be asking for things only on this registry, gift cards(Amazon, H&M, and Babylist) or cash!! We both value quality items that we know will last us through most all of children(we pray)! Some of our items may seem a bit pricey but that is because of them either being handmade or from stores that use very good quality fabrics and such to make their products!
Thank you again for loving us and caring for baby Heifort! We are so thrilled to have this opportunity to move to NY and to be parents.
Love, Jacob, Mallory and baby Gavin Heifort
View
---
Price
---
Stores
---
Categories