Best Strollers of 2020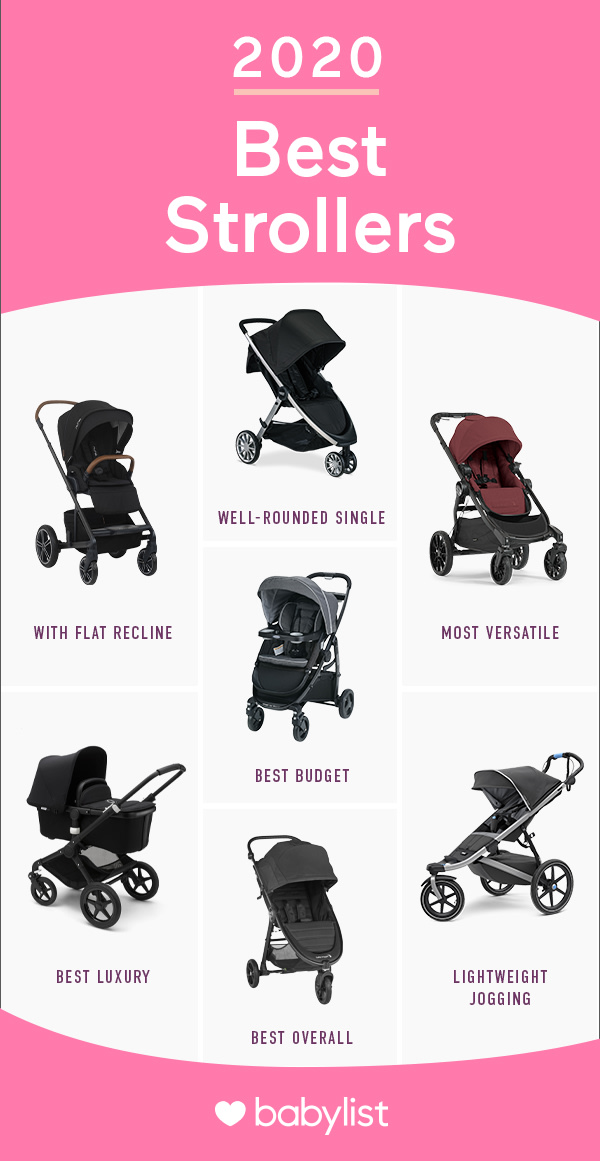 Strollers are helpful for navigating life with your new baby. They make getting out of the house with your infant (and eventually, your toddler) easier, so you'll get your money's worth out of whichever stroller you pick.
In this article:
What Types of Strollers are There?
There are several different types of strollers to choose from, including:
If you're not sure about what stroller is best for your family, check out our step-by-step guide to finding the perfect stroller for your family.
How We Chose Our Best Strollers
We asked thousands of real Babylist families about the products they love the most now that their little one has arrived. We took the top products they shared with us and added our own research and insight. Here are the strollers we think you and your baby will love.
Do you think this content is helpful? Let our editors know!
Other Strollers You Should Know About
These newer strollers are definitely ones that are on our radar. You might want to check out:
Mockingbird Stroller: This direct-to-consumer stroller offers fancy extras (like a gigantic storage basket that holds up to 25 lbs!) for significantly less than similar strollers.
Colugo Compact Stroller: Another direct-to-consumer stroller, the Colugo is intended for city living. It's a mere 16 lbs, has a shoulder strap or can fit in the included backpack for easy toting on public transportation.
Do You Need a Stroller?
Most parents use strollers a lot–to take power walks, go running, shop or walk around farmer's markets, malls, neighborhoods and downtowns. A stroller ride also can help a fussy baby fall asleep (they love fresh air and movement). Chances are, you'll add a stroller to your baby registry.
When Do You Need a Stroller?
It definitely depends on your family, but most parents end up getting a stroller at some point—and using it. If your stroller accomomdates an infant car seat or reclines flat, you can use it from birth. If not, you can typically start using a stroller around 6 months, when baby can sit up and has neck control.
And though it varies by model, many strollers (minus the stroller-frame type) can hold kids until they weigh about 50 pounds. That means even though a stroller may seem like an investment, you'll get a ton of use out of it.
---
Did you find this content helpful? Let our editors know!
---
Choosing What's Right for You
Because there are so many great stroller options out there, choosing the best stroller for you can be a bit overwhelming. To find a match, think about how you'll use your stroller a majority of the time: Where will you be going? What activities will you be doing? Test driving strollers will reveal what feels comfortable and will help you narrow down your decision.
And if you fall for a stroller that doesn't have all the bells and whistles you really want, you can always add on stroller accessories like cup holders, snack trays, extra seat cushioning, rain guards, bug protectors, etc. You can even add an adapter to make your car seat work with your stroller of choice. Once you find the right pick for your family and lifestyle, you're bound to love exploring and introducing your little one to the world.
This information is provided for educational and entertainmentpurposes only. We do not accept any responsibility for anyliability, loss or risk, personal or otherwise, incurred as aconsequence, directly or indirectly, from any information oradvice contained here. Babylist may earn compensation fromaffiliate links in this content. Learn more about
how we write Babylist content.
The freshest in parenting this week, delivered to your inbox