Picking the Perfect Pacifier
Last Updated: June 23, 2016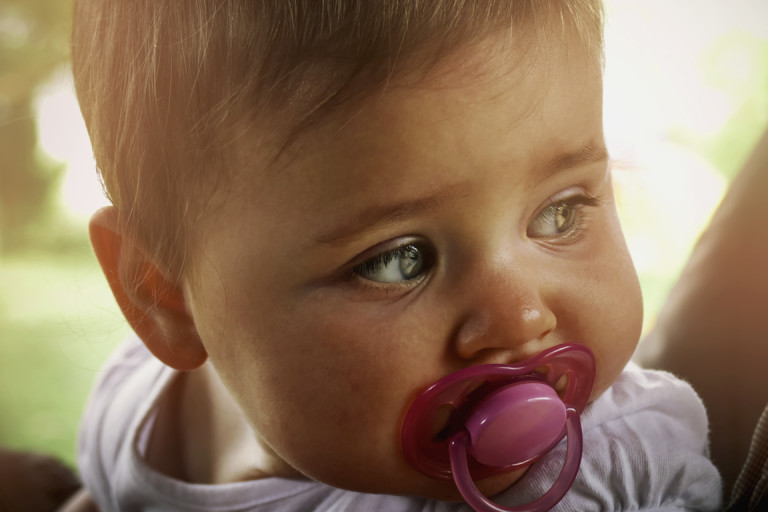 Pacifiers can be total lifesavers, but it's hard to know which one your baby will prefer. And let's be honest, the best pacifier is the one your baby will take, right? To give you a head start, here's some basic information about how to pick a pacifier (or two) for your baby.
A buzzword you will see a lot when researching pacifiers is "orthodontic." What does that mean? Orthodontic means that both your baby's top and bottom jaw are in the correct position when the pacifier is in their mouth, so it doesn't interfere with jaw growth and development. As your baby grows, you will need to buy a bigger paci for 3 months+ or 6-12 months. All of the pacifiers that we recommend have orthodontic options.
Generally, we recommend silicone over latex pacifiers because your baby could have an allergy to latex. Also, some babies don't like pacifiers at all. You may try a few and find that the habit just doesn't stick.
It's wise to avoid introducing the pacifier in the first few weeks of your baby's life since they are still getting used to drinking breastmilk. Sucking on a pacifier, bottle, and mom's nipple are very different actions involving dozens of muscles in your baby's face. To reduce the risk of confusion, pedetricians recommend waiting til breastfeeding is well-estbalished around three- or four-weeks old before introducing pacifiers or bottles.
Let's get started! Here are some of our favorite pacifiers:
First up, meet your new best friend the WubbaNub. Go ahead and just call him Wubbs because you'll be that close. WubbaNubs are small (and very cute) stuffed animals attached to the end of a Soothie pacifier. Genius, right? It's a pacifier your baby can grab ahold of and hang on to. The WubbaNub miraculously stays in your baby's mouth for longer than half a second, which makes it an easy choice for parents. Plus they are easy to spot in the diaper bag.
The pacifier part of the WubbaNub is the Philips Avent Soothie and this is the pacifier that countless hospitals recommend and also use. They come in several colors, and at less than $5 for a two pack, these pacifiers are a great choice. Their one-piece construction also makes them easy to keep clean.
Next in line is the Natursutten. Some parents swear by this Danish-made natural rubber pacifier. The oversized shield is designed to touch the baby's nose, which more closely simulates breastfeeding. Cool, right? The only downside we found was that they aren't safe for a child with a latex allergy. Also, they are not dishwasher or sterilizer safe, and they cost than most other pacifiers. Parents choose this pacifier for the design and the unique natural rubber material.
Nuk Orthodontic pacifiers are another great choice that comes in numerous fun patterns and colors. Meant to fit under the baby's nose, these are smaller than the Soothie and the Natursutten. The downside of the "puller" model paci is the multiple piece construction can be harder to keep clean. Nuk makes a single piece paci, but there are fewer design options.
Finally, the MAM Orthodontic pacifier is an extra small and lightweight pacifier that was created specifically for tiny newborn babies. Their claim to fame is a "unique anti-slip surface" that helps keep the pacifier in baby's mouth. However, the design doesn't come with a puller (or handle), so using a pacifier clip can be more challenging.
Our last piece of advice: once you know which paci your baby prefers, buy several so you always have one on hand (and in the car, and in the diaper bag, and on your nightstand).