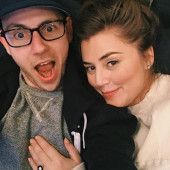 Jackie and Kevin's Baby Registry
Arrival Date: Aug 14th, 2018
Thank you so much for helping us prepare for Baby Pickman!
Our goal with this registry was to focus on the essentials and find naturally made items much as possible. We will be receiving hand me downs from family and friends - including clothing. We know those baby clothes are irresisitable, but what we have here will help us fill in the gaps.
Since the shower is not where we live, we highly encourage you to ship gifts to Chicago. For gifts given in person, please be sure to include a gift receipt in case we receive multiples of the same items. (Be sure to check out the reserved gifts - we received a lot of books at our Kansas City shower!)
If you have any questions, please do not hesitate to email either of us. We love you and can't wait for you to meet the babe.
Our new address in Chicago is 4936 North Talman, Apt #1, Chicago, IL 60625.
View
---
Price
---
Stores
---
Categories