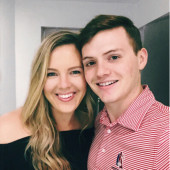 Jamie and Stuart Herndon's Baby Registry
Arrival Date: Nov 5th, 2018
To our family and friends-
We are so grateful to share this season of life with y'all. Stuart and I feel abundantly loved, supported and blessed by our community always, but this season takes the cake. We have been absolutely blown away by your excitement and joy towards Baby H and couldn't ask for a better tribe.
Your joy is our joy and your presence in this upcoming season is a gift in itself. More than anything we'd appreciate your prayers. But, if you feel led to purchase a little something, we've listed a few things we don't already have for our little guys big arrival.
Can't wait for you to meet him! He's about to be smothered in so much love.
-Jamie, Stuart, and Baby H
Babylist should default to sharing our address with you at the top of the screen when it comes time for checkout, but in case you are having trouble, we've included it below:
233 E. Wacker Dr.
#502
Chicago, IL 60601
View
---
Price
---
Stores
---
Categories