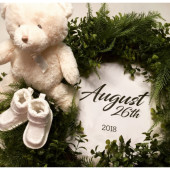 Gift Ideas for Baby Sabia
Arrival Date: Aug 26th, 2018
Baby Sabia is due to arrive in late August, 2018!
...and it's a BOY!
Salvatore Oscar Sabia (or 'Ozzie')
We are so excited to meet him and we can't wait for you to meet him too!
We are so thankful for all you have done for us over the years and especially within the last year since we celebrated so many of life's milestones including the arrival of our bundle of joy in August. Thank you, from the bottom of our hearts, for loving us and supporting us in every way!
Love, Jenna & Mike (& Ozzie too!)
View
---
Price
---
Stores
---
Categories