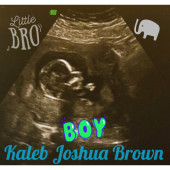 Karla& Christophers' Baby Registry
Arrival Date: Sep 8th, 2018
Thank you for taking the time to look at our baby registry! As you all know we will be welcoming baby#3 to the world in August/September of this year. We are having our 2nd son which we have chosen to name him Caleb Joshua Brown! We are all so excited, and cannot wait for his arrival! Just wanted to give you some info about our registry 1st so it is easier for you to navigate!
When you click on certain items in the registry, there will sometimes be a description of the item so you know what your buying. I plan on nursing this baby like I did with Christopher, so there are special bottles/specific brand meant for breast feeding in the registry. I ask that you please only buy that type/brand of bottle (if nursing for whatever reason does not work out I can still use them to formula feeding). We do not plan on using any pacifiers, so no need to buy them!
One of the biggest decisions we have decided to do with this baby is to cloth diaper him and use reusable wipes! I know some of you are probably thinking we are super crazy, but cloth diapers have come a long way since the older days and there are so many beneficial reasons to why we chose this route! Cloth diapering can be very confusing, so I tried my best to add a description of each cloth diaper in the registry! You will see words like, pockets, diaper covers, prefolds, and inserts (those are just a few words there are more lol). Please DO NOT be intimidated by all the words, and you don't have to memorize them either lol. Like I said, I tried my best to put a description under each diaper or the cloth diaper item so you could understand what it is.
If you are still not sure what a certain item is, even with the description do not worry at all, and it's ok! Whatever is in my registry is something I need and I will know how to use it, so there will be no issues at all if you buy something off my registry that you did not understand! You can always call me or msg me if you are Interested in learning and understanding cloth diapering, but if your not, that is 100% OK too! So since we are cloth diapering we ask that you please DO NOT buy any disposable diapers. We also plan on using reusable baby wipes so no need to buy baby wipes either. There are reusable wipes in the registry that you could buy instead if you would like to purchase wipes. At the very bottom of this entry after the intro, I will have a little info about 2 types of cloth diapers, so if you are interested to learn a little bit about cloth diapers you will find some info there, if you are not that is ok too, just don't read that part and go straight to the registry.
I can only use certain diaper rash creams with cloth diapers, so I ask if you want to buy a diaper cream please Choose the one on the registry. We also can only buy certain detergents with cloth diapers, we are going to be using Tide laundry detergent and you can find the type of Tide detergent we will be using in our registery. So, since you can't buy me disposable wipes or disposable diapers, if you want to buy something practical and easy then you can buy us detergent! That will be a huge need to us because we will have a lot of extra laundry with cloth diapers.
A lot of items in my registry have multiple links. Sometimes the links are for the same exact product, its just you can buy it from a different store at a different price range.
We know everyone has a different budget so we tried are best to accommodate all Different types of budgets. If you are unable to buy something that is totally ok we do not expect anyone to buy and provide anything for our baby, and we get that everyone's financial situation is different. If you do buy something for baby Caleb, it truly is a blessing that we are grateful for, and we thank you! The baby shower is on July 6th! If you are not in Hawaii and plan on getting something mailed to us it takes anywhere from 3 to 7 days to get to us. So if you would like your gift at the baby shower please plan accordingly. Thank you for taking the time to read this and for looking at our registry. God Bless! Here is some info just in case you need it! Our address is 461 Waa Ula Ln Wahiawa HI 96786 and our email is karlamichelle57@gmail.com or chris.brown7@yahoo.com.
***If your interested to learn a little bit more about cloth diapers read this part, if not skip this and go straight to the registry!***
Diaper COVERS: They are exactly what you read, they are a waterproof cover with no additional fabric sewed into them, and most diaper covers do Not come with the absorbent part of the diaper. I am suppose to buy different absorbent materials/styles (ex: cotton fitteds, bamboo flats, and hemp Prefold) they wrap it around babies bottom and secure it with a snappie ( basically a pin but safer) and then put a waterproof Diaper Cover over there absorbent material. The cons to a diaper cover is, it does NOT come with the absorbent part so you have to buy 2 separate pieces and takes a couple of more steps to get on baby. The pros of a Diaper Cover are that because it has no fabric sewed in the cover, if the cover gets dirty I just wipe the cover down and then I am able to reuse it with a new clean absorbent material. So I can basically use the same diaper cover through out the day.
POCKET Diapers: Now these diapers come with a sewed in fabric on top of the waterproof cover and then has a hole (aka a pocket) in the back where I am able to stuff what we call a "insert" (the absorbent part of the diaper) into the hole (aka a pocket) of the Pocket Diaper. Inserts come in the same material (cotton, bamboo, hemp) but instead of different styles of absorbency it is just one type of style (it looks like a pad for your cycle) and it involves not wrapping around babies bottom or pins to hold absorbent material in place. The Cons to a pocket diaper is it takes extra steps to put together, you always have to stuff the pockets of the diaper, you have more laundry to wash, and once the diaper is soiled you have to change the WHOLE diaper (the insert and cover) and put a whole new diaper. The pros with Pocket diapers are the fabric sewed in helps wick away moister from babies bottom, I can customize the absorbency (I can add more than 1 insert into the pocket if baby is a heavy wetter, and it involves no wrapping of the baby and pins to hold material in place, all you do is stuff the insert inside of the diaper between the sewed in fabric and waterproof material.
View
---
Price
---
Stores
---
Categories