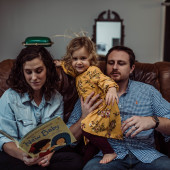 Katelyn's Baby Registry
Arrival Date: Jun 10th, 2019
Hey Everyone!
We are so grateful for your involvement in our lives, and the new life of Baby Fusco #2.
With us not knowing the gender, and already having one babe, we don't have too many specific needs. We are cloth diapering again and using a new system, so diapers are the big need!
I also learned my lesson last time- definitely need some nursing clothing. That would be so greatly helpful!
The other big expense we will have is our birth photography, which is so important to us. If you'd rather give to that fund, we would be eternally grateful as we will look back on the memory of this birth forever.
We love you all! Thank you for everything!
View
---
Price
---
Stores
---
Categories