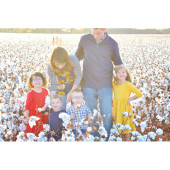 Kayla's Baby Registry
Arrival Date: Aug 2nd, 2018
Thank you for perusing our baby registry! We are almost ready to welcome baby number 5 and we can't wait! I will try to answer a few questions I know you'll have:
—We are having a boy and no, we don't have a name picked out yet. We're still having a baby-name war at our house! Top name choices from his siblings include "motor" and "crispy" so you know... 😁
—We have had a long history of skin sensitivities in our home so we will only be using Honest Co. diapers and wipes to avoid having to switch later if he has the same reactions! I've been diligently stocking up Nb and size 1 diapers in preparation!
—Having one little boy already, we have a small amount of newborn and 0-3 month clothing, however I have donated a large majority of it to foster babies in need over the past couple years. If you're thinking about clothing, our newborn and 0-3 month selection is limited in zippered jammies, convertible gowns, and dressy Church outfits. Registering for clothing overwhelms me so I've put a few items I loved with the other children, but I apologize for that selection being sparse.
—We have also donated all of our baby blankets and swaddles to foster babies in need over the past year, but his siblings and I have picked out several we think the baby will love!
—I may have donated most of our baby gear saying "we're done having babies! Let's free up some space!" Well, God laughed and now we're replacing those items we've loved using with our children. Never say never, folks! 😁
Again, we thank you for perusing our registry! If you have any questions, please don't hesitate to ask!
View
---
Price
---
Stores
---
Categories