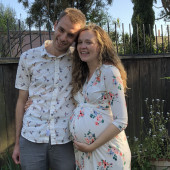 Kit & Nate's Baby Registry
Arrival Date: May 26th, 2018
Hello, dear family and friends! We're so excited to meet our baby girl (due around May 26).
Gifts are absolutely *not* necessary, but we've put this together to help ourselves out. This registry lets you buy gifts at any online or in-person store, and then simply confirm the purchase on the registry. If buying clothes, feel free to get any variety of sizes (so we don't wind up with all newborn sizes, which we've already got some hand-me-downs of ~ though they are sooo cute).
We also plan to set up a meal train once baby arrives, if you are local and would like to support us in that way, let us know. Thank you so much for your love and friendship!
View
---
Price
---
Stores
---
Categories