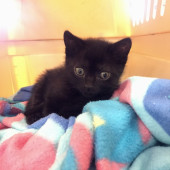 Greenhill Humane Society Kitten Shower!
Arrival Date: Jun 30th, 2018
The kittens are coming! The kittens are coming!
Kitten season has come to Greenhill Humane Society which means it's time for us to bulk up on care supplies for the hundreds of feline babies who are about to come through our doors.
Whether you're a local cat lover or someone just looking to make a difference, please consider sending us a pack of these vital supplies to help us save kitty lives.
Our virtual Kitten Shower will be taking place until June 16th. If you'd like to drop off donations in-person we'll have a physical Kitten Shower on Saturday, June 22nd from 11am - 2 p.m. at Greenhill Humane Society at 88530 Greenhill Rd., Eugene, OR. Come by to drop off goodies, enjoy some treats and meet some of the sweet cat babies who will benefit from your kindness.
Thank you for supporting our life-saving work!
View
---
Price
---
Stores
---
Categories