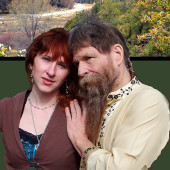 Kiva's Baby Registry
Arrival Date: Dec 3rd, 2017
Hello Loved Ones!
Thank your wanting to contribute!
Making use here of something special from you, feels really good to us, being able to look at it and know who it is from, and before long being able to tell our lil' critter who it is from. It's also true that the expense of setting up for child is a bit overwhelming, and gifts for the baby are also hugely helpful in this practical way.
I set up this gift registry to make it easy to find the things we need most, carefully researched to meet our tastes and practical requirements, useful stuff that makes things a little easier for us and sweeter for the critter!
Cool antique stuff or things you make by hand would be incredible, though of course there is no way to link to that here! We love really old stuff, and hand crafts from toys to garments, natural materials, and themes like Southwestern, Herbal, Botanical, Outlaw, Middle Ages, Mountains and Rivers, Faery and Elven.
We obviously aren't into polyester blues for boys and pinks for girls thing, so the practical and aesthetic things we wish for our offspring work for either sex. Clothes are a bit of an issue, but then again, we've been shipped a traditional Russian peasant gown, and (recalling how both sexes of wee ones wore long tunics during more interesting historical times than now), we figure to see it on a precocious 1 year-old even if it's a boy.
Once past the scary part of rolling with another baby – 16 years after having our daughter Rhiannon – we moved on to: Enjoying talking about picking names. Planning with our caretaker James how to turn the storage room attached to our cabin into a bedroom and kid's room. Figuring out what kind of slings would work best for caring the child around. Imagining what kinds of botanical designs could be featured on them. Searching for and finding a rugged offroad stroller to handle our wilderness lifestyle. Picturing a bambina hopping in a bouncer or giggling in a swing. Wondering if there are handmade embroidered bibs with mythic or herbal themes. Deciding how much room we have in our tiny cabin for a compact crib, and googling for an earthy foldup bed and changing station. Discovering a retro wood bassinet that will blend in with out old rustic abode and antiquey furnishings. Funny how even choosing a diaper pail has fed the hormone infused parenting instincts.
If you have something else in mind you would like to offer, give us a write about it: PlantHealer@PlantHealer.org
And even just for thinking about us and the lil' one coming, I sure do thank you!
–Kiva
View
---
Price
---
Stores
---
Categories